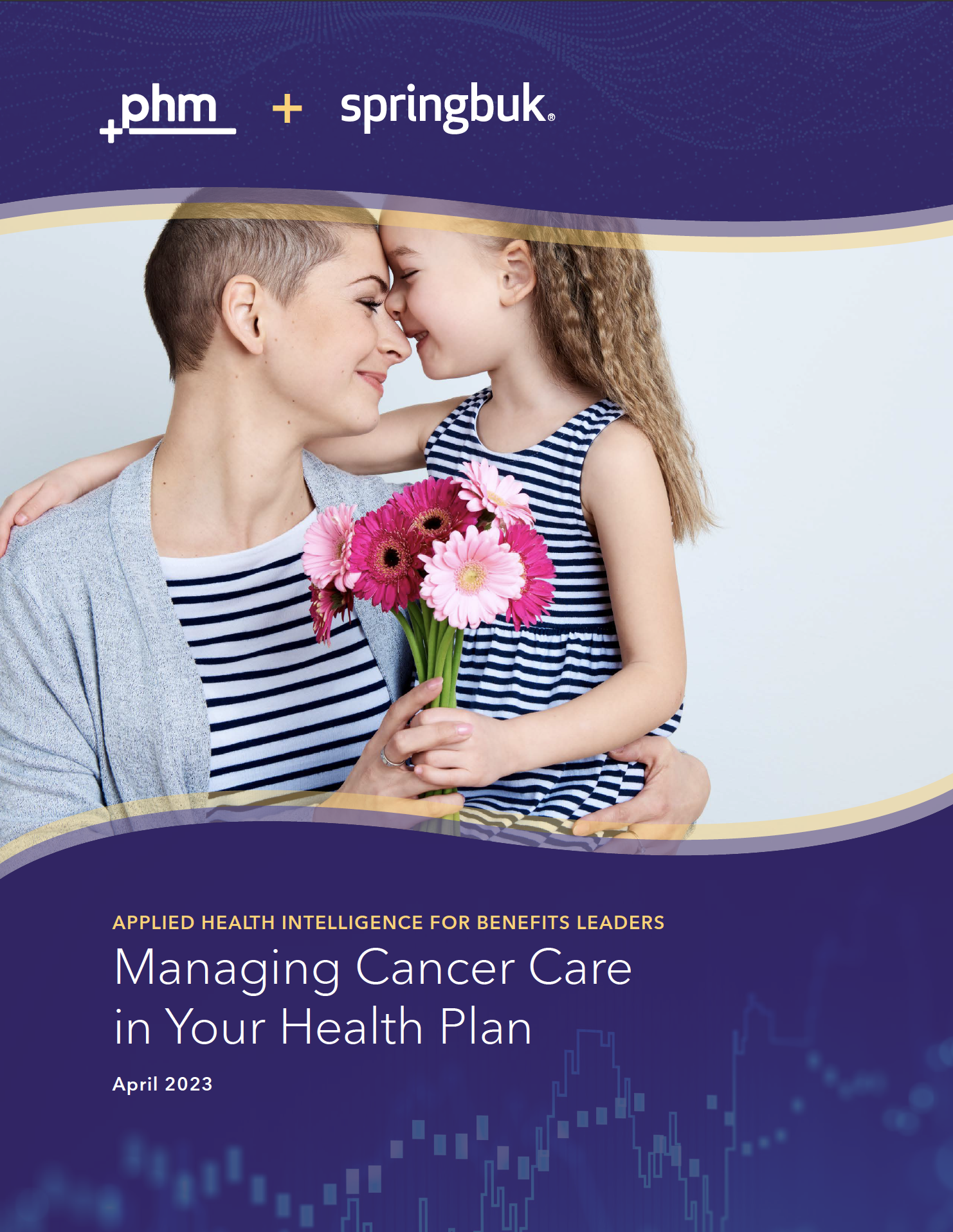 PHM and Springbuk provide actions for employers to mitigate cancer risk
Employers can play a substantial role in closing the clinical quality gap in cancer care. In this whitepaper, PHM combines proprietary data analytics and clinical insights to identify ways companies can improve cancer outcomes while optimizing cancer spend.
In "Managing Cancer Care in Your Health Plan," we set out to answer a question:

How can employers adapt their health plan to improve efficient outcomes for employees with cancer while reducing inefficient spend?
Our analysis focuses on three areas:
Encourage prevention

through advanced screenings to achieve better health outcomes at lower treatment costs.

Enable molecular profiling, still highly underutilized, to ensure cancers are appropriately characterized and individuals are benefiting from the latest in precision medicine.
Optimize drug spend by making informed formulary decisions, not merely restricting use of high-cost drugs.
The newly released findings include Springbuk's claims data from more than 1,000 select employers consisting of 1.7 million lives covered.
PHM changed the narrative of my wife's care. Our personalized PHM Team saved my wife's life. PHM will always be a part of my family.
John B. | PHM Client

Luckily, I work for an amazing company that really cares about its employees and they retained PHM. The vitalness of the offering came to light when my case was exacerbated. I saw results overnight and it's miraculous.
Joanna K. | PHM Client
About PHM
PHM is a clinically sophisticated company solving complex healthcare problems to help individuals get well and stay well. The company applies its deep health intelligence to bring the best of what's possible in medicine to individuals, families and companies that make their employees' health a priority. Learn more at PrivateHealth.com.
About Springbuk
Springbuk is a leading-edge health intelligence platform that empowers employers and consultants to sharpen their benefits strategy, advance employee health, and contain costs. Learn more at Springbuk.com.